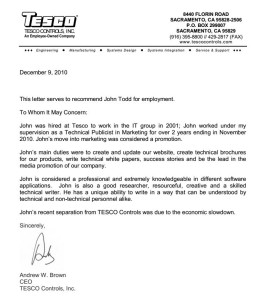 December 9, 2010
This letter serves to recommend John Todd for employment.
To Whom It May Concern: John was hired at Tesco to work in the IT group in 2001; John worked under my supervision as a Technical Publicist in Marketing for over 2 years ending in November 2010.
John's move into marketing was considered a promotion.
John's main duties were to create and update our website, create technical brochures for our products, write technical white papers, success stories and be the lead in the media promotion of our company.
John is considered a professional and extremely knowledgeable in different software applications. John is also a good researcher, resourceful, creative and a skilled technical writer. He has a unique ability to write in a way that can be understood by technical and non-technical personnel alike.
John's recent separation from TESCO Controls was due to the economic slowdown.
Sincerely,
Andrew W. Brown
CEO TESCO Controls, Inc.